With an ever-increasing percentage of reservations coming through online booking sources, you may have diverted marketing attention from phone reservations to search engine optimization and other techniques that optimize electronic bookings.  But in doing so, hotels, particularly luxury hotels, miss opportunities to convert inquiries to bookings.  Customers who pick up a phone to call you are on the hook, and primed to book.  Often the only thing standing between their inquiry and a booking is their need for clarification, recommendation, or affirmation.
Understanding these three general kinds of inquires, empowering your reservations staff to respond to each type appropriately, and training them with some simple techniques for closing a sale will not only increase your conversion rate, but also start your guests' experience on a path to greater satisfaction.
Many hotel phone reservations agents are still stuck in an old paradigm of quoting laundry lists of property features and room amenities when a prospective guest calls. This may have been a critical function in an age when consumers didn't have access to that information (and much more) online.  Today, most people making phone inquiries have already done extensive online research about your property and competing properties.  They've picked up the phone looking for a specific detail, assurance or offer that will finalize their decision.  Typically, these details fall into three categories: Clarification, Recommendation and Affirmation.  Training your staff to engage guests around these three types of inquiries is the key to converting their inquiry to a booking.

Clarification: Matching Services and Amenities to Guest Need
Today's travel consumer has access to an overwhelming amount of information about your property.  Yet no matter how clear your property features and amenities may seem on your own website, customers still have questions.  Indeed, if they've dug deeper and read user reviews about your property, they may have encountered conflicting information as well.
When a caller is asking questions of clarification, your team's best approach is to answer with a probing question.  Understanding why the particular detail is important to a prospective guest gives you greater ability to sell to their specific needs and desires.  For instance, if a guest asks about room balconies, your agent could ask "Were you thinking about dining on the balcony? Will you be celebrating a special or romantic occasion during your stay?" This is an ideal way to further engage the guest, and have them start imagining their stay as if it were already booked.
Recommendation: Guiding Guests Towards A Personal Choice
Guests who make the effort to call a property directly are often looking for "insider information" – recommendations based on details that only someone on site can make.  These prospective guests often ask if a reservations agent is on property, because they know that a central reservations agent isn't going to know which rooms within a certain category are better, or details about the local area and attractions.  For them it is the personal connection that will close the sale.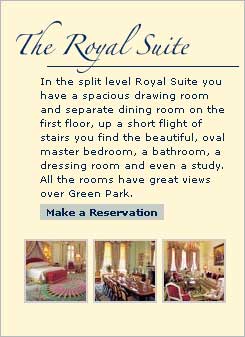 A reservations agent can offer to request a specific room or floor, or offer recommendations for dining, theater or activities that the guest might enjoy during their stay.  These prospects want to hear opinions.  They are the same people who ask a waiter or waitress what he or she likes among entrees. The waitress liking Chicken Parmesan has no bearing on whether they will, but some diners want to trust someone else's opinion.  Reservations agents often defer to customer preference, and indeed the fact that your reservationist prefers the modern wing of your property to the historic wing has no real bearing on your guest.  But the expression of an opinion, and the ability to imbue that opinion with additional enticing features and descriptions is what will close the deal for these customers.  Simple statements like "I really like our rooms overlooking the golf course, because the sunset from those rooms is so beautiful" can be enough to convert an inquiry to a booking.

Affirmation: Assuring Guests that Your Hotel is Right for Them
Some prospective guests have made up their mind, or are close to making up their mind, but they seek assurance that they've made the right choice.  So give it to them. Their inquiry often begins with a detail about their trip.  Instead of asking about the balcony, they'll lead with "I'm booking my honeymoon" or "I'm coming to town to meet with a business client."  When prospective customers start talking about themselves, your reservations agents need to mirror that back, with statements that are about the guest.  They are seeking affirmation about their choice, so give it to them by making sure that your answers talk about them.  Start the answer to these questions with "Our hotel would be ideal for you because we're so close to your meetings…" or "Since you're on your honeymoon, you'll really love our romantic turndown service, which features rose petals and chocolates."
Closing The Deal: You Rarely Get What You Don't Ask For
No matter how well your reservations staff answers responds to inquiries, some percentage of guests will still balk on making a reservation.  But before your agent hangs up the phone, there are three closing techniques that can still turn some of these inquiry-only calls into bookings.
The No-Obligation Reservation
If your deposit/cancellation policy allows for it, your reservation agents should make sure that inquiring guests know that they can hold a reservation with no obligation.   If a guest expresses uncertainty, or the need to defer to a third party like a spouse or boss, this can be a particularly effective technique, and is most powerful when it plays into that uncertainty: "Would you like me to hold a no-obligation reservation for you? I would hate for your preferred room category or rate to sell out or go up in price while you (or your spouse/boss) decide."  If your cancellation/deposit policy doesn't allow it, consider giving your agents the ability to waive that for 24 or 72 hours to capture these uncertain bookings.
The Personal Connection
If the prospective guest called looking for recommendation-type information, he or she is looking for a personal connection, so use that to close the deal.  Room upgrades are the most powerful conversion incentives, and your reservations agents can no doubt use them to seal the deal if you have the inventory available to do it.  But that's not the only option.  Your agents are already empowered and expected to ask for special requests. Turn the request into a personal offer such as "If you book your reservation with me right now, I'll personally make sure you get the best available room upon arrival." If you offer a little make-good amenity when these kinds of non-confirmed requests cannot be fulfilled upon check-in, do that in the name of the reservationist who made the offer: "I know Sally promised she'd try to arrange early check-in for you, but since that's not possible today, Sally asked me to provide you some complimentary cocktails while you wait."  Functionally, you're probably doing this already.  Frame the process as a special personal connection to the prospective guest and not only will you convert more bookings, but you'll make your guests feel special and recognized, even when you can't honor their special requests.
The Emailed Brochure
There will always be times when a prospective guest just isn't going to confirm a reservation, no matter what you try.   In this case, there is one last technique to employ.  Ask if you might email that customer a hotel brochure.  It's simple enough to create a PDF (portable document format) version of your hotel brochure, if you don't already have one.  Offering that to non-booking inquires serves a double purpose.  First, it puts more information into their hands.  This is particularly important if the person calling is not the decision maker.  It gives him or her something enticing to pass on to the decision maker that doesn't rely on his or her own description or recollection of your property and conversation.  Perhaps even more importantly, it gives you an easy way to follow-up.  A personal email, perhaps with an additional incentive to book, sent two or three days later gives you another opportunity to convert that inquiry to a booking.