Author Archives:
Not Found
Apologies, but no results were found for the requested archive. Perhaps searching will help find a related post.
Luxury Link Unveils New "Inspire Me" Function as First of its Kind in Online Travel to Encourage Travelers to Try New Properties and Destinations
Website redesign celebrates 15 years of offering luxury vacation experiences at the world's best hotels
Celebrating its 15th anniversary, leading luxury vacation website Luxury Link (www.luxurylink.com) unveils a newly designed website accompanied by an alternative browsing  function, the "Inspire Me" button. The restyled website features more than 250 new luxury hotels and resorts with enhanced functionality, clean aesthetics and additional photography. The site also includes an improved luxury travel community, the "Luxury Lounge" to support travelers planning for and sharing memories of their luxury vacations.
For years, travelers have turned to Luxury Link to find inspiration and research properties at amazing destinations. The new "Inspire Me" feature captures the essence of that inspiration by highlighting the world's top-rated hotels and resorts at destinations a traveler may have never before considered. It is a browsing option for travelers who are looking for ideas and guidance while dreaming about where they might travel to next. The "Inspire Me" function provides recommendations by Luxury Link's travel experts for thousands of world-class properties at destinations ranging from Montana to the Maldives and Boston to Bali.
"For the past 15 years, inspiring travelers with amazing hotels and incredible prices has been the mission of Luxury Link," said Luxury Link President, Diane McDavitt. "The new design and functional upgrades to our website embody a true luxury travel experience – from our hand-picked collection of hotels, resorts, villas and cruises to the luxury extras we include in each vacation. Each step of the way, we are committed to travelers getting more for their money while enjoying a truly extraordinary experience from start to finish."
Luxury Link has added new functionality to its online community forum, the largest and most active community of luxury travelers on the web. The "Luxury Lounge" is a forum where travelers can discuss everything from destinations to hotels while sharing ideas, opinions and answering questions. The Luxury Lounge features enhanced forum functionality and social sharing capabilities. Travelers can keep a running travelogue of their adventures and escapes through personal blogs and photo galleries.
Luxury Link features vacations at more than 1,200 luxury properties in 60 countries from independent hotel partners, boutique hotels, luxury villas at prices up to 65% off.  The site also offers vacations at luxury resort collections including Dorchester Collection, Four Seasons Hotels and Resorts, The Ritz-Carlton, Mandarin Oriental Hotel Group, Orient-Express Hotels & Resorts, Auberge Resorts, Destination Hotels & Resorts, Oberoi Hotels & Resorts and Preferred Hotel Group.
About Luxury Link
Founded in 1997, Luxury Link (www.luxurylink.com) is a leading luxury travel website offering value-added, unique travel experiences at five-star accommodations around the world, at exclusively low prices, up to 65 percent off best-available rates. Luxury Link has established relationships with more than 1,200 luxury and five-star properties around the world. The vacation experiences created by Luxury Link encompass sought-after destinations like Kenya or Bora Bora and luxury properties ranging from boutique spa hotels to expansive luxury resorts with special included extras like spa treatments, champagne in the guest's room, daily breakfast, resort credits or others.
---
Welcome to the newly refreshed LuxuryThink blog!
2012 is a year of celebration for the Luxury Link Travel Group as we enter into 15 years of connecting avid travelers with the world finest accommodations.
15 years ago, we couldn't have imagined the brilliant community of loyal customers we have attracted, and the extraordinary and diverse selection of hotel, resort and villa partners we've been able to feature on our three websites.
We are continuing to improve our sites and our hotel sponsorship program each year, and are providing more data and booking insight to our partners, new products to our consumers, and will be promoting hotels through more online marketing channels than ever before.
The LuxuryThink blog is the place to visit to find out about luxury hospitality marketing.  It's the new home to our renowned Whitepapers, and a forum for discussion and commentary for our partners and potential partners.
We look forward to sharing our success with you this year, and helping to create yours!
PS Have feedback on our new look?  We'd love to hear it!
---
By Billy Kolber
In just a year, social media has gone from being a "nice to have" marketing component for luxury hotels to a "must have" component. And all indicators point to its importance only trending higher. Regardless of the communities, channels or tools, the past year has seen an enormous growth in the use and importance of social media. Hospitality eBusiness Strategies' just-released 5th Annual Benchmark Survey makes this very clear. Social media has jumped to #2 in their return on investment ranking, closing in on Website Optimization. And 2011 expenditures on social media are surging 56% – an increase second only to the increase in spending on strategic links to property websites from online directories and portals.
In many ways, the travel industry, and hotels in particular, are still behind the curve in the use of online marketing and tools. Many properties are still stuck in a "Web 1.0" world, where online communication are really just a digitized version of the one-way marketing conversation that defined hotel marketing in the 20th century. Fortunately, travel is particularly well suited to the "Web 2.0" world, where content and conversations are built around consumer interests and concerns. Consumers are passionate about travel and all of the experiences it encompasses. They want to talk about and show off their experiences. They want to share their opinions, recommendations and knowledge. And they want to hear from their fellow travelers, whose words, images and videos help shape their travel plans and booking confidence. It's that passion and eagerness to engage that makes them particularly receptive to social media. Hoteliers and travel service providers need only provide them the forums, the tools, the encouragement and the recognition for doing so.
Be a Part of Luxury Link's Successful Social Media Strategy
Luxury Link's social media strategy has been featured as a Facebook Marketing Case Study. Luxury Link Partner Hotels gain added exposure and social media traction through inclusion in our Facebook and Twitter community conversations. No one else offers our unique combination of innovative programs to effectively deliver leads, customers and revenue to hotels, and our dedicated account managers make it easy to partner in our success.
The Two-Way Conversation Heard 'Round the World
Social Media is defined by its conversational and public nature. This is what makes social media both challenging to master and extremely rewarding when it gains traction. Understanding social media as a public conversation with your guests – current, former, and future – is the first step in crafting and executing a successful social media strategy.
Like other conversations with your guests, social media conversations can take many forms. Some of the "traditional" conversations that are now happening in social media include:
Concierge Services
Customer Service & Recovery
Sales and Marketing
Reservations
Onsite Marketing and Up-selling
Feedback and Focus Groups
Social media also creates and empowers new types of conversations that weren't possible before, such as:
Building and facilitating guest communities
Highlighting and emphasizing distinctive and compelling features of your property
Identifying and cultivating "brand ambassadors"
With these conversations happening in real time online, each form may require its own strategy, tools, tone of voice and staffing. Successful social media efforts mirror successful hotel operations in this regard. They both require engaged, responsive staff members working as a team, and the use of specialized tools to increase their efficiency. But the potential return on investment is great, multiplied by the public visibility of these conversations.
Show and Tell, Not Sell, Sell, Sell
While room sales are the ultimate goal of all social media efforts, the route is less direct than other digital and traditional marketing efforts. There's certainly a place for posting hotel deals and offering special rates for Facebook fans and Twitter followers. But successful social media efforts are characterized more by consumer engagement than direct sales activation. Social media experts often suggest that no more than 20% of your communications be sales messages, but that still leaves many hoteliers wondering about the composition of the other 80%.
By viewing social media as an extension of the guest experience, putting engagement into practice becomes much easier. Adam Wallace, Director of Digital Marketing for the Roger Smith Hotel, known as "the twitter hotel" makes a great case for using Twitter for communicating 1-on-1 and for using social media to bridge the online/in-person divide, providing online hospitality to guests when they're not at the hotel. Starwood talks about using it to extend their relationships with guests beyond "the 10 days a year they stay with us to all year long." In this context, your online conversations become an extension of the same kinds of best-practice engagements you might have with a guest on site. Travel is inherently social, and your customers want to know about what's going on in and around your hotel. They're engaged by discussions of food and wine, cultural and tourist attractions, special events, even the weather.
Social media is effective in creating a personal connection with your guests before they arrive or even book your hotel, one that will enhance their excitement about and ultimate satisfaction with your property. Use social media to enhance and add value to their stay. Use it to thank them for their business, apologize for service lapses and encourage them to return.
Making it Happen
There's no shortage of consultants and tools to help build and manage your social media presence. Tools like Hootsuite andTweetDeck are among the most popular content management tools. Revinate debuted this year as a social media management tool specific to hotels, by focusing on user generated reviews in addition to the more universal Facebook and Twitter content. Revinate also offers an online knowledge base with extensive downloadable guides for developing and managing a social media strategy. Contests are generally acknowledged as the most effective way to quickly build a list of followers, and Wildfire makes it easy to build and run contests that grow your fan base.
If you're going to try managing your social media internally, Hotel Marketing Strategies offers an easy framework for thinking about how your whole team can and should participate in your social media strategy. At a minimum, having a strategy and a staff member to monitor and respond to customer service issues online is essential. A public conversation about your property is already happening there, and being a pro-active part of that conversation is a baseline engagement that is expected of every luxury hotel today.
For many luxury properties, a concierge twitter feed, like @HyattConcierge, may be the most logical next step. It both showcases the insider knowledge your concierge team has, and provides another access channel for your guests to access the personalized service that drive customer satisfaction. Those conversations will also provide a source of inspiration for the conversations you can start on a Facebook page. With contests and conversations running on your Facebook page, adding a reservations tabprovides a booking link right where all that activity is happening. Building a community on YouTube as Four Seasons Hotels and Resorts has done with videos that highlight the distinctive features of your property is another way to engage and entice your customers. Integrating that content on your hotel website, and enabling Facebook Likes and Twitter Follows from every page on your site creates a self-reinforcing loop of engagement. Using Facebook Sponsored Stories then enables you to further build your community by leveraging the social connections of your fans each time they "like" your business or content.
Location-based services such as Foresquare and Facebook Places are the newest addition to the social media arena. They allow GPS-enabled offers to appear on consumer phones and mobile devices when they are in your physical vicinity. They can be used most effectively to deploy onsite marketing offers, such as encouraging patronage of F&B venues.
No matter what social media arena you engage in, remember to adhere to the precepts that would apply to any guest conversation: Be professional, honest, responsive, personable, genuine and nice. Without the body language, vocal inflections and facial clues of in-person communication, it's critical to be sure your words reflect your personality and social graces.
Luxury Link Can Help
As a leader in online hotel marketing, we're committed to helping the luxury lodging industry grow and thrive. This white paper is just one in a series we've commissioned as a free service to the industry — no strings attached. We believe the more you learn about today's fast-paced marketing environment, the more our Hotel Partner Program makes sense. We hope you will take advantage of the entire Luxury Link Insights white paper series to help build your business, and we welcome the opportunity to explain in depth how our program can be the most cost-effective part of your online marketing strategy.
Click here to start a conversation with us.
---
By Billy Kolber
Online Travel Agencies are boon and bane for most luxury hotels, and the increasing trend of consumers booking online means they will continue to be so for the foreseeable future.  A recent ThinkEquity survey showed that 51% of European hotel bookings were online in 2010, and expected to ride to 58% in 2011.  And just two online agencies, Booking.com and Expedia.com (including subsidiaries hotels.com and venere) accounted for 64% of all European OTA bookings. On the surface, the benefits of an OTA relationship are irresistible:  their commission-based bookings incur no upfront booking costs.  But as the percentage of bookings coming through the OTAs increases, so does that commission cost.  An increasing dependence on OTAs also leads to decreased control of the customer pipeline, putting hotels at greater risk of OTAs flexing their muscles with increasingly strict and onerous contract terms.
Despite the experience of hotels in Columbus, Georgia (which disappeared off OTAs back in 2009 as a result of a tax dispute) most hotels couldn't survive without the far-reaching customer aggregation of the OTAs, and most wouldn't want to.  The OTAs play an important role in a healthy revenue mix.  It's only when dependence on any one specific channel becomes over-weighted that the relationship can turn toxic.  So it's worth reviewing how the OTAs fit in your own marketing mix, and what you can do to maximize their benefit while minimizing commission expenses and maintaining a robust pipeline of direct bookings.
Beating a Path to Your Door
The OTAs have made a huge investment in transaction technology and marketing in order to build customer relationships with millions of travelers world-wide.  Their business model depends on being the booking channel of choice for consumers who might never find or book your hotel but for its presence on an OTA site.  Clearly, that incremental customer booking is worth having, and the OTA delivers great value by bringing it to you.  It's the same business model that was used by traditional travel agencies and wholesalers who delivered their customers during the golden age of travel, but accelerated by the internet.
Incremental bookings are only part of the benefit of working with the OTAs. They also deliver a "Billboard Effect," exposing travelers to your property who then book direct on your own brand website.  A recent study by The Center for Hospitality Research at Cornell confirms that a listing on Expedia influences three to nine direct bookings for every booking completed on Expedia, an increase of 7.5-26% in total revenue gain.
The Other Side of the OTA
If the OTA story ended with incremental revenue and the billboard effect, hoteliers would have no complaints.  But OTAs are in business for themselves, and their goals aren't always completely aligned with their partner hotels.  And while OTA bookings have no upfront costs, they're far from free.  Hospitality eBusiness Strategies estimates that OTA bookings are, on average, 10 times more expensive  than the direct online channel.
Even more significantly, when OTAs deliver revenue they don't always deliver customers.    When you source a direct booking, you "own" the customer, having established a direct relationship with them and collected extensive personal data.  It's the first step in making a customer a repeat customer, and it's harder to do at check-in than at time of booking.
Tipping The OTA Scales in Your Favor
Accepting the fact that your OTA relationships are useful and necessary while acknowledging their true costs is the first step in managing your OTA habit and tipping the scales in your favor.  Three simple steps will help do that:
1. Increase incremental revenue
This requires careful management of your inventory. OTAs can't sell it if they don't have it, and shouldn't sell it out if you don't need them to.  Make sure that you're monitoring your inventory and working with the OTAs to take advantage of promotional and merchandising opportunities when they make sense.    While you're at it, make sure your property description, photos and video represent your hotel competitively on the OTA sites.    The billboard effect works best when your billboard is compelling.
2. Optimize your direct booking channels
According to Google, the average hotel booker conducts 20 research sessions on multiple sites before transacting.  So having your property listed on multiple channels can help catch your customer when he or she is ready to pull the trigger and book.  Even more importantly, make sure that your own direct channels — online and offline – are engaging, appealing and positioned to close the sale.  See our white paper Converting Inquiries to Bookings for strategies to keep your reservations staff well-trained.
3. Don't rely on OTA marketing as your primary online marketing channel
Compare the true costs of OTA bookings, particularly if the percentage of your indirect bookings exceeds the historical benchmark of 25%.  MadiganPratt offers a convenient online calculator that will allow you to quickly determine the true cost of your OTA bookings, and how much you can save by reclaiming a higher percentage of direct bookings. Increasing your share of direct bookings requires an upfront investment, but wisely made, that investment will pay dividends long into the future with an increase in direct bookings and customer "ownership."
Maximizing Your Mix
Reducing your dependence on OTA bookings means increasing your reliance on your direct channel.  This requires dedicated, focused action on two initiatives:
1. Strengthen Customer Relations
Use social media and standard CRM tools like email and direct mail to stay in touch with your customer base.  Frequent, targeted communications will bind your customers closer, and increase their likelihood of booking direct.  Be sure your front desk is trained to collect email and enough personal information to add OTA-sourced customers to your own database or CRM system.
2. Generate Direct Leads
In challenging economic times, it's tempting and sometimes necessary to reduce awareness and brand marketing,  But doing so puts more and more of your new customer funnel under the control of third-party businesses.  Hotel eBusiness Strategies' 4th annual Benchmark Survey on Hotel Internet Marketing Budget Planning and Best Practices offers budget allocation benchmarks for hotel internet marketing budgets: 23% to website design/redesign and optimization, 20% to email, social media and mobile marketing, 16% to pay-per-click search engine marketing, 11% to search engine optimization and 11% to strategic links from online directories and portals,
If online marketing has been slashed from your budget, look for creative ways to build awareness: Partner with compatible businesses and organizations. Verify links back to your site from CVBs and other tourism resource sites, and request links from other relevant sites.  Seek out opportunities to use unsold inventory in contests and auctions that expose your property to new customer prospects.

Luxury Link Can Help
The Luxury Link Travel Group's Hotel Marketing Program is uniquely designed to build awareness and generate leads direct to your property.  With an extraordinary audience of Luxury Travelers and a barter-option that reduces your out-of-pocket costs, the Hotel Partner Program is an ideal way to strengthen your direct marketing efforts while reducing your dependence on the OTAs.  Start a conversation with us.
---
By Billy Kolber
Loyalty programs have been around since the 19th century, when copper tokens, certificates, and ultimately trading stamps were given to consumers to encourage repeat purchases.  But it was the introduction of American Airlines' AAdvantage program 30 years ago that changed the course of travel marketing. The ubiquity of frequent traveler programs may define points as the currency of loyalty, but the re-launching of programs from Carlson, Lowes and Intercontinental Hotels illustrates the increasing incidence of point fatigue, and frequent travelers' growing demand for flexible and personalized recognition.
Whether your property has a points-based program or not, it is worth re-examining guest loyalty: what defines it, why it's valuable, and how to grow and profit from it in a changing marketplace.
True To You
Loyalty is simply defined as an unwavering allegiance or fidelity, and guest loyalty is defined by actions that are indisputably valuable to a hotel's bottom line: repeat bookings, a preference for your property when it is more expensive or less convenient than your comp set, and positive word-of-mouth.  Frequent guest points are a powerful and measurable way to drive loyalty, but in many ways they are a poor substitute for the meaningful guest experiences that create the most passionate and valuable loyalty.  For years, Ritz Carlton eschewed points, holding to the tenet that guests pay for quality, not for points.  Their recent adoption of a rewards program doesn't refute that truth.  Today's frequent travelers may expect points, but you don't have to look far to see that point-based loyalty is often hollow:  The ubiquity of elite status match and challenge programs, the road warriors with multiple elite status, and the frustration of elite-level travelers who complain of being treated like ordinary guests.
Loyalty Beyond Reason
In her book Building High-Performance People and Organizations: Volume 1, The New Employer-Employee Relationship, Martha Finney details Starwood Hotels' emphasis on guest service interactions as the key to producing "Loyalty Beyond Reason."  It is telling that Starwood, so tightly branded by its loyalty points program, places such emphasis on service interactions as the first component of guest loyalty.
In 2004, McKinsey&Company's Paul Brown identified multiple opportunities for hotel loyalty programs: paying greater attention to travelers at the far ends of the frequency spectrum, offering easier redemption and more innovative, flexible and personalized rewards.  These recommendations have been well realized in the past 7 years, but even more important was McKinsey's advice for how to create and achieve these improvements:  "A hotel can learn a good deal by conducting a better dialogue with its guests and by giving frontline staff members an incentive to note their observations."
True loyalty – passionate, evangelical loyalty – demands guest service moments that consistently recognize, surprise and delight guests.  And it is that passionate loyalty, Starwood's "Loyalty Beyond Reason" that inspires guests to share their experiences, recommend properties to their friends, and rebook.  In an increasingly socially-networked world, the importance and bottom-line value of listening to your guests, meeting and exceeding their expectations, and making it easy for them to express their delight is clear.
Pointing Towards the Future
Mark Johnson, CEO of Loyalty 360 reviewed 11 trends that will drive customer loyalty in 2011.  Eight of his key concepts are directly applicable to the lodging industry. They provide an excellent framework for evaluating rewards programs, and all aspects of the guest experience that can create passionate loyalty among guests.
1. Loyalty initiatives will focus on engagement and building long-term relationship.
Is your loyalty program engaging guests, or just passively rewarding them? Opportunities for recognizing guest loyalty don't have to be elaborate.  Marriott's  use of elite-branded room keys for upper tier members of their rewards program is simple, yet reminds the guest of their status every time they open their door.
2. The emotional side of decision making will create passionate, engaged consumers.
Kids programs and pet programs are great examples of appealing to guests' emotional decision points.  Tapping into your guests' dreams and desires, professional and personal, will always drive decisions and revenue more than reason.
3. Companies will look at how customer engagement and employee engagement work together to drive bottom line results
Johnson cites a 2009 Gallup study showing that companies that score in the upper half on both customer and employee engagement get a 240% boost to their bottom line, versus a 70% boost for scoring in the upper half of just one or the other. It's a virtuous circle, engaging and rewarding employees for engaging and rewarding your loyal customers.
4. Voice of the customer programs will see greater focus
Johnson cites an IBM study of 1,500 CEOs, 88% of whom said that "getting closer to the customer" was a key area of focus for the next 5 years. Everyone wants to be heard.  Are you opening multiple channels to listen to your guests' feedback, and are you proactively responding to it?
5. Loyalty programs will become more individual, relevant and meaningful.
More than anything, guests want to be recognized as individuals.  The re-launch of "Loews First" as "Loews YouFirst" with its "Pick a Perk" benefit is a great demonstration of how a rewards program can address guests in ways that are relevant and meaningful to them.  Every interaction, from booking through departure is an opportunity to learn about your guests, and respond to them as individuals.
6. Customer engagement goals will be gain importance over customer spend and transaction number.
Technology has empowered hotels to learn and track much more than guest visits and revenue.  Measuring and finding ways to encourage actions like guest referrals  or online reviews offer an opportunity to focus on behaviors that really drive the bottom line.
7. Cause-related and social responsibility marketing will drive loyalty.
Social "cred" is particularly important among millennials,  If their demographic isn't  important to your business, it will be soon.  Social causes and responsibility need to be increasingly integrated in all aspects of your marketing and operations.
8. Loyalty strategies will incorporate in-the-moment and location-based marketing
In-the-moment rewards like in-room movies, minibar items, and parking credits are already gaining traction in loyalty programs, and also serve to address the growing desire for flexible, achievable, individual and relevant rewards. The fast-growing user base of Android and iPhones will enable a new age of location-based marketing opportunities for hotels.
Checking Into Loyalty Innovation
The future of hotel loyalty programs is already rolling out.  This brief survey highlights some of the innovative new member benefits and rewards programs targeting guests at all ends of the frequency spectrum:
Choice Privileges
Reward options include digital music downloads
Club Carlson
An online booking bonus encourages frequent guests to bypass more expensive booking channels, and Roll Over Nights allows unused elite-qualifying nights to count again toward elite status in the following year.
Global Hotel Alliance
GHA Discovery offers access to a large selection of adventures that are not easily available or accessible to the general public, awarded at various milestones (first visit to a member brand, upgrade or retention of status level). Includes activities from wine tastings to glider acrobatics with a member of the German National team.
Hilton HHonors
MyWay On Property Benefits allow elite guests to choose from room upgrades, food and beverage amenities, sightseeing excursions or bonus points.
Hyatt Gold Passport
Additional Awards after every third stay (bonus points, airline miles, room upgrades, Starbucks gift cards), Four confirmed suite upgrades annually for Diamond Elites
Loews Hotels You First
Pick-a-Perk choice of value-added benefits, including free internet, movie, pet fee or parking credit.
Marriott Rewards
Instant Redemption offers on-site application of points to folio charges.
Priority Club Rewards
Hotels Anywhere allows members to redeem points for stays at any hotel, including rival properties.
Starwood Preferred Guest 
Moments by Starwood Preferred Guest offers VIP concert ticket purchase with points through a partnership with Live Nation and point auctions for once-in-a-lifetime experiences at movie premiers as well as cultural, dining, and championship sporting events
The Final Point
Points-based loyalty programs aren't going away anytime soon. They continue to be powerful marketing tools, and have become entrenched in the frequent traveler's value equation.  Programs like Stash Rewards and Voila Hotels have brought turn-key reward programs to independent properties, and further increase the pressure for independent hotels to offer reward points.  But true loyalty will not be won with points alone.  It will be earned by engaging, recognizing and rewarding customers in a personalized way, by addressing their passions and emotions, and by listening for and then exceeding their expectations. Guests may love their free nights and upgrades.  But hotels that find ways to engender true loyalty and then leverage social media and modern technology to amplify it will surely reap the rewards.
More Ways to Build and Manage Your Business
Luxury Link Travel Group has been a leader in online hotel marketing since 1997.  Our whitepaper series is just a small demonstration of our commitment to our luxury hotel partners.  Our unique Auction and online marketing programs help thousands of properties broaden their online reach and presence, and play an effective role in driving business to your hotel.  In 2010, Luxury Link launched Family Getaway and partnered with Travel+Leisure to debut Vacationist, the new private sale travel site with unprecedented reach and luxury travel credentials. Contact a Luxury Link account executive today to learn more.
---
With an ever-increasing percentage of reservations coming through online booking sources, you may have diverted marketing attention from phone reservations to search engine optimization and other techniques that optimize electronic bookings.  But in doing so, hotels, particularly luxury hotels, miss opportunities to convert inquiries to bookings.  Customers who pick up a phone to call you are on the hook, and primed to book.  Often the only thing standing between their inquiry and a booking is their need for clarification, recommendation, or affirmation.
Understanding these three general kinds of inquires, empowering your reservations staff to respond to each type appropriately, and training them with some simple techniques for closing a sale will not only increase your conversion rate, but also start your guests' experience on a path to greater satisfaction.
Many hotel phone reservations agents are still stuck in an old paradigm of quoting laundry lists of property features and room amenities when a prospective guest calls. This may have been a critical function in an age when consumers didn't have access to that information (and much more) online.  Today, most people making phone inquiries have already done extensive online research about your property and competing properties.  They've picked up the phone looking for a specific detail, assurance or offer that will finalize their decision.  Typically, these details fall into three categories: Clarification, Recommendation and Affirmation.  Training your staff to engage guests around these three types of inquiries is the key to converting their inquiry to a booking.

Clarification: Matching Services and Amenities to Guest Need
Today's travel consumer has access to an overwhelming amount of information about your property.  Yet no matter how clear your property features and amenities may seem on your own website, customers still have questions.  Indeed, if they've dug deeper and read user reviews about your property, they may have encountered conflicting information as well.
When a caller is asking questions of clarification, your team's best approach is to answer with a probing question.  Understanding why the particular detail is important to a prospective guest gives you greater ability to sell to their specific needs and desires.  For instance, if a guest asks about room balconies, your agent could ask "Were you thinking about dining on the balcony? Will you be celebrating a special or romantic occasion during your stay?" This is an ideal way to further engage the guest, and have them start imagining their stay as if it were already booked.
Recommendation: Guiding Guests Towards A Personal Choice
Guests who make the effort to call a property directly are often looking for "insider information" – recommendations based on details that only someone on site can make.  These prospective guests often ask if a reservations agent is on property, because they know that a central reservations agent isn't going to know which rooms within a certain category are better, or details about the local area and attractions.  For them it is the personal connection that will close the sale.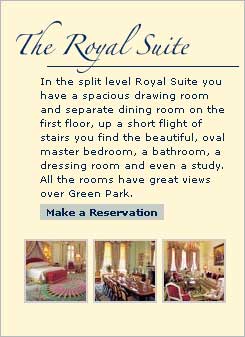 A reservations agent can offer to request a specific room or floor, or offer recommendations for dining, theater or activities that the guest might enjoy during their stay.  These prospects want to hear opinions.  They are the same people who ask a waiter or waitress what he or she likes among entrees. The waitress liking Chicken Parmesan has no bearing on whether they will, but some diners want to trust someone else's opinion.  Reservations agents often defer to customer preference, and indeed the fact that your reservationist prefers the modern wing of your property to the historic wing has no real bearing on your guest.  But the expression of an opinion, and the ability to imbue that opinion with additional enticing features and descriptions is what will close the deal for these customers.  Simple statements like "I really like our rooms overlooking the golf course, because the sunset from those rooms is so beautiful" can be enough to convert an inquiry to a booking.

Affirmation: Assuring Guests that Your Hotel is Right for Them
Some prospective guests have made up their mind, or are close to making up their mind, but they seek assurance that they've made the right choice.  So give it to them. Their inquiry often begins with a detail about their trip.  Instead of asking about the balcony, they'll lead with "I'm booking my honeymoon" or "I'm coming to town to meet with a business client."  When prospective customers start talking about themselves, your reservations agents need to mirror that back, with statements that are about the guest.  They are seeking affirmation about their choice, so give it to them by making sure that your answers talk about them.  Start the answer to these questions with "Our hotel would be ideal for you because we're so close to your meetings…" or "Since you're on your honeymoon, you'll really love our romantic turndown service, which features rose petals and chocolates."
Closing The Deal: You Rarely Get What You Don't Ask For
No matter how well your reservations staff answers responds to inquiries, some percentage of guests will still balk on making a reservation.  But before your agent hangs up the phone, there are three closing techniques that can still turn some of these inquiry-only calls into bookings.
The No-Obligation Reservation
If your deposit/cancellation policy allows for it, your reservation agents should make sure that inquiring guests know that they can hold a reservation with no obligation.   If a guest expresses uncertainty, or the need to defer to a third party like a spouse or boss, this can be a particularly effective technique, and is most powerful when it plays into that uncertainty: "Would you like me to hold a no-obligation reservation for you? I would hate for your preferred room category or rate to sell out or go up in price while you (or your spouse/boss) decide."  If your cancellation/deposit policy doesn't allow it, consider giving your agents the ability to waive that for 24 or 72 hours to capture these uncertain bookings.
The Personal Connection
If the prospective guest called looking for recommendation-type information, he or she is looking for a personal connection, so use that to close the deal.  Room upgrades are the most powerful conversion incentives, and your reservations agents can no doubt use them to seal the deal if you have the inventory available to do it.  But that's not the only option.  Your agents are already empowered and expected to ask for special requests. Turn the request into a personal offer such as "If you book your reservation with me right now, I'll personally make sure you get the best available room upon arrival." If you offer a little make-good amenity when these kinds of non-confirmed requests cannot be fulfilled upon check-in, do that in the name of the reservationist who made the offer: "I know Sally promised she'd try to arrange early check-in for you, but since that's not possible today, Sally asked me to provide you some complimentary cocktails while you wait."  Functionally, you're probably doing this already.  Frame the process as a special personal connection to the prospective guest and not only will you convert more bookings, but you'll make your guests feel special and recognized, even when you can't honor their special requests.
The Emailed Brochure
There will always be times when a prospective guest just isn't going to confirm a reservation, no matter what you try.   In this case, there is one last technique to employ.  Ask if you might email that customer a hotel brochure.  It's simple enough to create a PDF (portable document format) version of your hotel brochure, if you don't already have one.  Offering that to non-booking inquires serves a double purpose.  First, it puts more information into their hands.  This is particularly important if the person calling is not the decision maker.  It gives him or her something enticing to pass on to the decision maker that doesn't rely on his or her own description or recollection of your property and conversation.  Perhaps even more importantly, it gives you an easy way to follow-up.  A personal email, perhaps with an additional incentive to book, sent two or three days later gives you another opportunity to convert that inquiry to a booking.
---